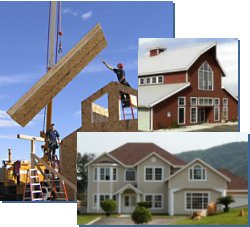 What Are SIPs?
SIPs are manufactured by pressure-laminating Oriented Strand Board (OSB) plywood to a solid core of Expanded Polystyrene (EPS) foam using an industrial grade adhesive. The end result is a pre-engineered building component anyone can build with, regardless of construction experience.
More About Our Panels
| | |
| --- | --- |
| | Energy savings with SIPs |
| | SIPs to fit your architectural plans |
| | Advantages of SIPs |
| | The engineering behind SIPs |

Welcome to
Precision Panel Colorado
Leaders in Structural Insulated Panel Technology
Precision Panel Colorado™ is Colorado's leader in the lamination, fabrication and installation of Structural Insulated Panels (SIPs). SIPs are used to construct a super strong, very energy efficient, 'green' building envelope (shell) for:
Single family homes
Additions
Restaurants and hospitality
Timberframes
Log homes
Commercial buildings
Other Products and Services
Precision Panel Colorado offers much more than just panels to its customers. We also offer training, consulting, engineering and other services to help you get the job done, including:
Drafting and panel layout
Engineering of panels
Fabrication of panels
In-shop installation of structural lumber
Installation of panels on site
Consulting
Training
Referral services to help you grow your business
Let Precision Panel Technology Improve Your Next Project
Precision Panel Colorado appreciates the opportunity to work with you to build your dream project. Please review the information contained on this web site. If you have any further questions, please
contact
our office.

Other Products and Services From Precision Panel Colorado


Precision Panel Colorado Training & Education


Why SIPs from Precision Panel Colorado?